Datum/Zeit
Datum - 26.10.2019
19:00 - 21:00 Uhr
Since January 2018, a total of 26 new and old Berlin artists have presented their works in the Ulme35 at the "Artist Talk – Artistic Positions in Dialogue" and worked together in workshops. This has created many new connections. From 26.10. until 21.11.2019 we are looking forward to show works by 14 artists from the second cycle of the exchange format in an exhibition in the Ulme35.
Sandra Contreras (Mexico) and Shabnam Sarmadi (Iran)
Mayada Alkayai (Syria) and Marie-Ulrike Callenius (Germany)
Shirin Ashkari (Iran) & Irina Novarese (Italy)
Abuzer Güler (Turkey) & Anwar Al Atrash (Syria)
Ivan Blažetić Šumski (Croatia) & Frederika Teti (Italy)
Adama Keita (Mali) & Harald Grace (Germany)
Marwa Younes Almokbel (Syria), Christa Fülbier (Germany)
The exhibition is curated by Carolina Kecskemethy and Ramin Pravin. The opening of the exhibition will also feature a catalog that brings together all the artists of both cycles.
The exhibition and catalog are supported by the Kulturbeirat Charlottenburg-Wilmersdorf.
---
© Marwa Younes Almokbel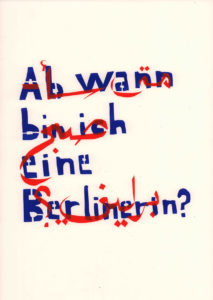 Adama Keita, sweet melancholy, oil on linen, 100 x 160 cm, 2018