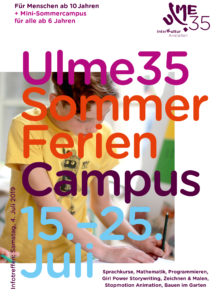 we are looking for volunteers from 15.-25.7. in the Ulme 35for a colorful and creative summer holiday campus for children and adolescents from refugee camps and from the neighbourhood! Would you help to make the whole wonderfully crazy and beautiful idea possible?We are looking for:- Daily kitchen helpers to cook lunch for about 40 heads- Lecturers for the German, Maths and English language courses over the two weeks or at least one of the two weeks for 3 hours in the morning - English native speakers especially welcome!- People helping with the organizationPlease contact us at ckecskemethy@gmail.com or during the opening hours at the Ulme35 (Wed-Sat 15.-21.00)Ulmenallee 35, 14050 Berlin (Charlottenburg)
And that is planned:
Summer holidays camp at Ulme 35!
Ulmenallee 35 14050 Berlin
15th to 25th of July 2019
Learning and being creative two weeks in the summer holidays -
A free offer for children and teenagers from 8th grade to high school- and for the smaller neighbors there is a "mini-summer campus"
The summer holiday campus has a morning area and an afternoon area. In the morning there are German and mathematics courses as well as an English language workshop and a writing workshop.In the afternoon, the young participants can try out many creative offers in the various art workshops: drawing and painting colorful pictures in the studio, building crazy landscapes in the wood workshop, dance and theater, gaining even more self-confidence and having fun, for example. at the girl project ...
For the smaller neighboring children, the "mini summer campus" will take place only in the morning with specially tailored offers such as "Mapping - become a neighborhood researcher!" and the "garden school".
There is a free hot lunch during the day.
Dates: Monday to Friday from 15 to 25 July 2019Morning: 9.30am to 12.30pm(9.30am to 10am: arrival and warm-up meditation & gymnastics)Lunch break: 12:30 to 13:30Afternoon: 1.30pm to 4pmFinal presentation: Thursday, 25.7.2019 at 15 o'clock10-12 participants per course or workshop
Ulme 35 is a newly founded community center aiming at those who just arrived to Berlin and those, who live here since a long time. www.interkulturanstalten.de
Reagy to help?We would be delighted! Please contact
_______________________________
Carolina Kecskemethy
- M.A. Art in Context -
Fon 0049-163-6020209
Fax 0049-30-39037244
ckecskemethy(at)gmail.com
Invitations to print here