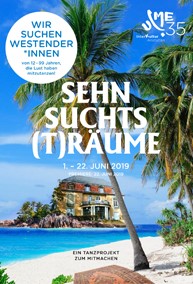 Informationstreffen: 1. Juni um 17.30 Uhr
Gemeinsam mit der Choreographin Be Van Vark von "Tänzer ohne Grenzen" und Julek Kreutzer wollen wir die Ulme35 im Juni zum Leben erwecken. Alle sind dazu aufgerufen, das Haus in einen Sehnsuchts(t)raum zu verwandeln, ob jung oder alt, klein oder groß - jede*r ab 12 Jahren macht mit!
Proben voraussichtlich:
jeweils 18.-21.00, an den Wochenenden 14.00 – 17.00 Uhr
Dienstag 11. Juni
Freitag 14. Juni
Samstag 15. Juni
Sonntag 16. Juni
Mittwoch 19. Juni
Donnerstag 20. Juni
Generalprobe Freitag 21. Juni 19.00 Uhr
Aufführung Samstag 22. Juni, 17.00 Uhr
Und so sah es aus, als Be Van Vark im Februar 2019 die Stadt Halle zum Tanzen brachte.