Aufgeschoben ist nicht aufgehoben - zum einen ist das Sprichwort eine schöne Sprachübung für unsere Übersetzer :-), zum zweiten ist es wahr:

Das Zuckerfest mit buntem Kinderprogramm von Hüpfburg über Kartoffellauf bis Zirkus findet am kommenden Freitag, dem 7.7.17 von 16.00 bis 21.00 Uhr statt. Es gibt orientalische Süssigkeiten und reichlich Platz, die mitgebrachte Picknickdecke auszubreiten - freuen Sie sich auf ein buntes gemeinsames Fest!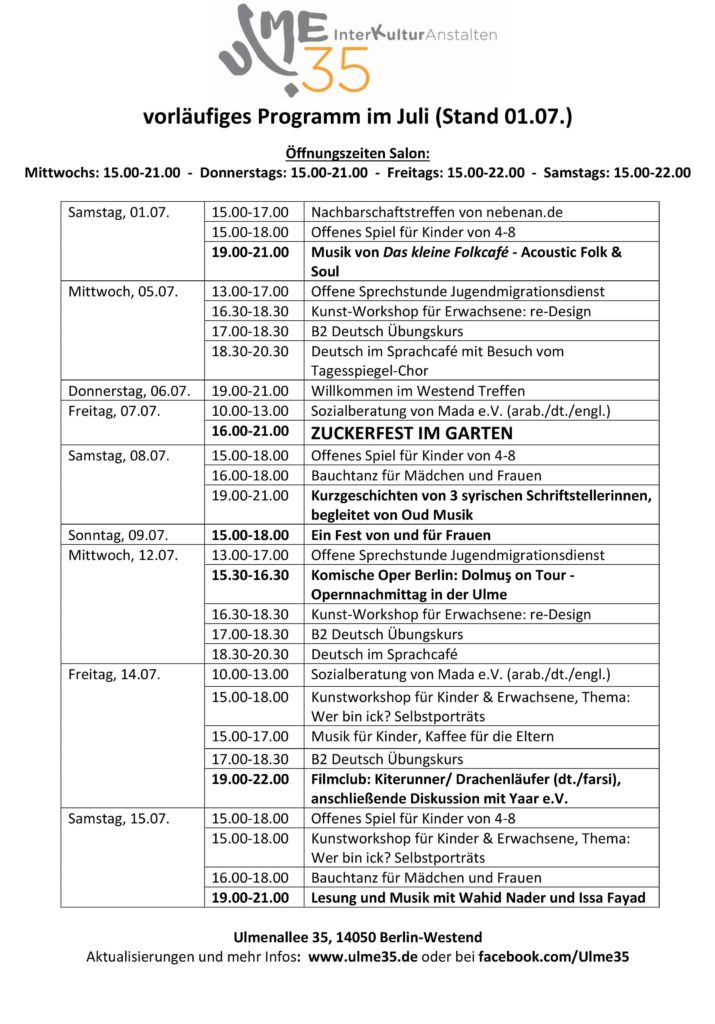 Postponed is not abandoned – the Sugar Festival with its lively programme for children with a jumping castle, games and circus will now take place on Friday 7th July from 4pm – 9pm.  There will be oriental sweets and pastries and plenty of space to spread out a picnic blanket – so do come and celebrate together!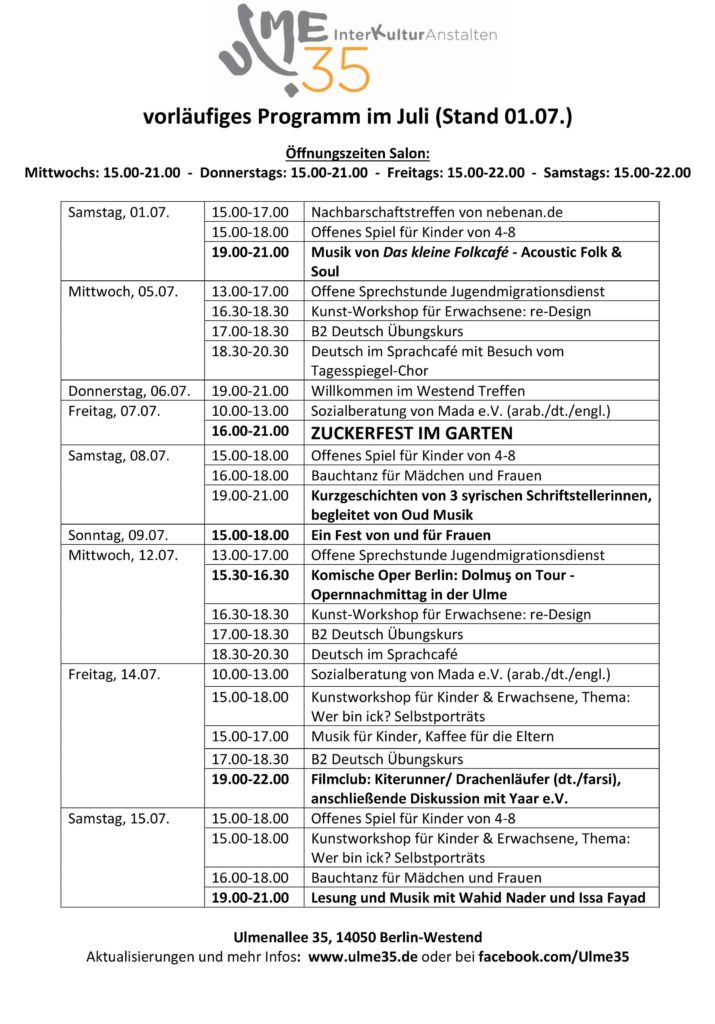 On Saturday 8th July there will be a very special story-telling evening. The organization Saiedad Souria held workshops for women in Syria, neighbouring countries and Germany to write short stories. These will be read in Arabic, a written translation will be provided in German and the oud music needs no translation.

And because parties are such fun, on Sunday 9th July there will be a party only for women from 3-6 pm. Come and enjoy that with us!

On Wednesday 12th July we have a special programme at 3.30pm. The Komische Oper in Berlin is sending its 'Operndolmus' to Westend and invite you to a small-scale opera programme with two singers and three musicians. The programme is called "At home in two countries" and presents arias and duets from 500 years of opera. The theme is the search for happiness in a far-away country and what it means to leave your culture and everything familiar behind. Well-known songs from the opera – and operetta repertoire in German, Italian and French are combined with folksongs form Turkey, Croatia and Holland.

On Friday 14th July the Film Club is showing a film about Afghanistan: "The Kite Runner" based on the novel by Afghan-American author Khaled Hosseini.  The film will be shown in German with subtitles in Farsi.  After the film we would like to talk with Afghans about how realistic this film is. It was shot in China and California but depicts life in Afghanistan before the Soviet invasion in 1979.

On Saturday 15th July at 7pm the Syrian/German author Wahid Nader will be our guest. Accompanied by Issa Fayad on the oud he will read extracts from his works.

By the way, from July onwards we are also open on Thursdays from 3-9 pm! On these afternoons we will be concentrating on job integration – if you would like to help others write a vita or a job application, please get in touch with us!

Here you will find the complete programme in three languages to print and pass on…
 We look forward to seeing you,
The Ulme35 Team