10th and 11th February, 2017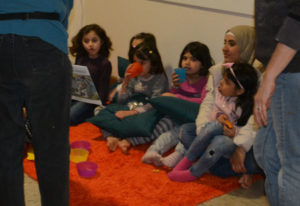 For two whole afternoons the artists Carolina Kecskemethy and Patricia Pisani worked with a lively group of children, who mainly came from the "Esche", the refugee accommodation centre next door. They made moveable figures, scenery  and props for a shadow theatre based on Maurice Sendak's well-known children's book "Where the Wild Things Are", which had previously been read to the children in various languages.
Carolina and Patricia did a fantastic job of combining inspiring artistic leadership with looking after the children – we are sure that the young artists will want to come again, hopefully then accompanied by a few parents. Carolina and Patricia will certainly need some support next time so that they can fully concentrate on their creative work with the children.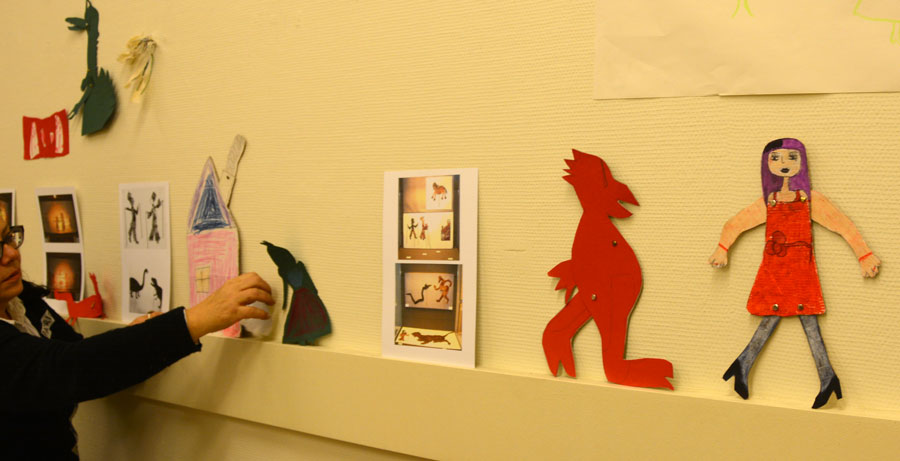 The workshop finished at 6pm, the café started to fill up with grown-up visitors and there was a shift from enjoying coffee, tea and cake in the afternoon to quiche and wine in the evening. At 7pm the film club screened its first film, "Goodbye, Lenin!" in the auditorium. This German comedy about the fall of the Berlin Wall, directed by Wolfgang Becker, was shown with Arabic subtitles to an audience of about 40 people, approximately half of whom knew very little about life in East Berlin thirty years ago. Reinhard Fischer from the Berlin Centre for Political Education, and Jihad Tello's translation into Arabic gave a wonderful introduction to the themes in the film and in this way bridged the intercultural gap. The film raised many questions, including "Who is taking in refugees?" and a lively discussion followed.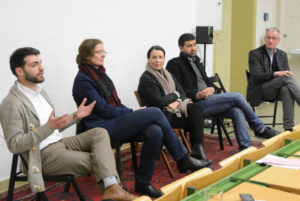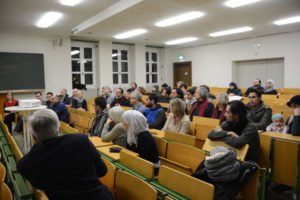 On Saturday the 'Wild Things" workshop continued in suitably wild fashion and in the evening the first intercultural weekend ended with an oriental concert. The musicians were Ajo Emin, a Kurdish tembur soloist, Jamil Mohamed Amin, a young saz player and rapper, and a group of six musicians accompanying Ali Baba on the quanon and the singer Bilal Ibrahim. The auditorium was packed with old and new Berliners who were both moved and enthusiastically sung or clapped along to the music – depending on whether they were very familiar with it or whether it was something completely new.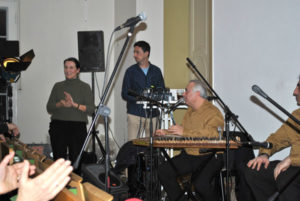 The next intercultural weekend will be on 24th and 25th February: This time the film club will show a children's film in the late afternoon on Friday, followed by two Syrian documentaries in the evening about how theatre can help heal the wounds of war, with a discussion at the end.  On Saturday there will be a presentation of the creative work done in the workshops and the evening concert by young string players from Spain, Israel and Moldavia playing pieces by Bach, Schubert and Mozart will demonstrate the power of music to connect people from different cultures and countries.  The café will be open and we look forward to lively conversations between new and old neighbours in Westend and beyond.