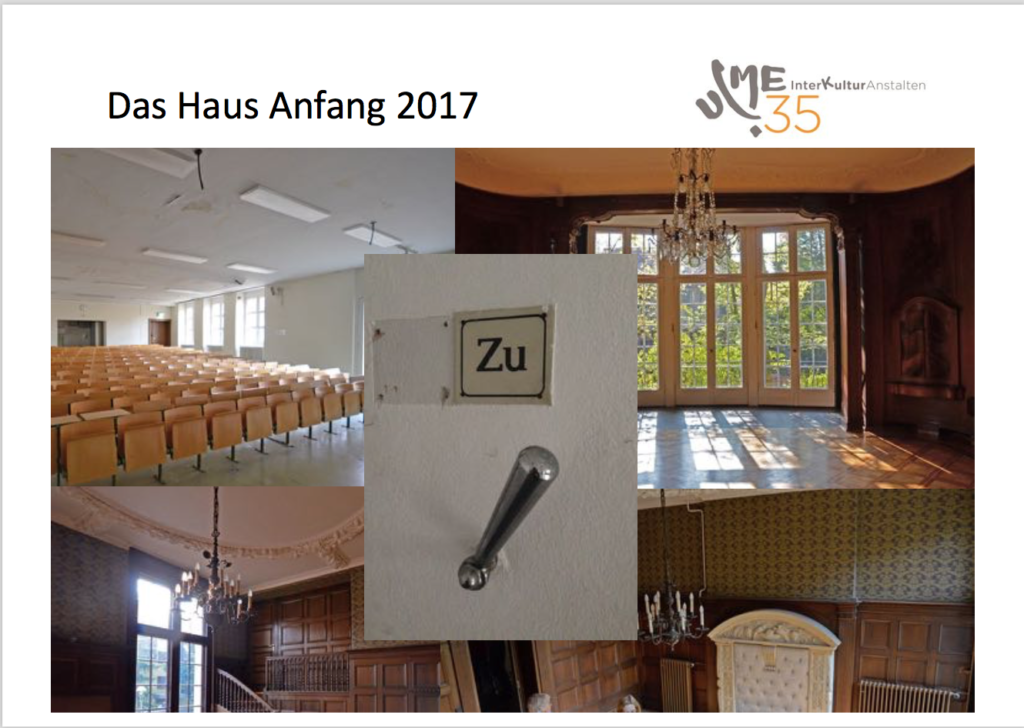 In 2015, the state government of Berlin announced that, instead of selling the former Charite psychiatric compound in Westend, it would convert the former clinic into a refugee home. This decision sparked an idea that would later become the Ulme35 -- a neighborhood hub of art, discussion, and cultural exchange.
The idea first emerged over the weekly get-togethers of eight Westend neighbors. They forged plans over Sunday coffee and eventually founded the association Interkulturanstalten Westend e.V.
In March 2017, we received the keys for the disused private clinic in the Ulmenallee. Since then, the project has grown immensely: the facilities, the events, the team, the network, the friendships -- and of course the association itself. We have grown from the original 9 to over 100 members, which means that, for the first time, our member's meeting had to take place in the auditorium!
Just like in every association's yearly member's meeting, the first topic on the docket was the finances. The board gave an account of the money spent in the past year and how it was used to keep the house operating.  Then we discussed the financial planning for next year: we receive about 2/3 of the necessary funds from the district of Charlottenburg-Wilmersdorf. The rest we come up with ourselves through grants, donations, and other activities. The members were in agreement with the plans and all members of the board who were up for re-election were re-elected unanimously.
Of course all of that was necessary, but just a teeny bit boring. It was much more fun to talk about what actually happened during the Ulme35's first year. For those of you who would like more detailed information, here is the PDF of the presentation available for download.
2018_04_23 Auszug Jahresbericht Webseite