Datum/Zeit
Datum - 25.02.2017
19:00 - 22:00 Uhr
5 young string players from Spain, Israel and Moldavia will perform works by Bach, Schubert, Couperin and Mozart for an audience of refugees and their neighbours in Berlin. There will be time to meet and talk before and after the concert in the café.
We welcome:
Xenia Gogu and Eduard Kotlyar (violin), Nir Rom and Carolina Uriz (viola), Victor Garcia (cello).
They are young musicians that are finishing their studies in Germany. After meeting in several workshops organized by the Musethica Assotiation in Israel, Spain, Sweden and other countries, they continue playing together in different chamber music projects. Aiming to share classical music with the whole society, including those who have rare access to it, they have played in all kinds of institutions, such as prisons, elderly people residences, hospitals, schools, etc. They combine this with their professional activities at standard concert halls.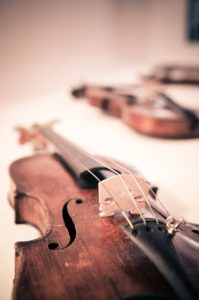 Saturday 25.02.2017
The concert starts at 7pm
The café ist open from 5pm – 10pm
Ulmenallee 35, 14050 Berlin
Entrance free
Programme:
J.S. Bach (1685-1750) – Allemande from Partita no.1 in B-minor
F. Couperin (1668-1733) – Sonate en Trio "Le Parnasse"
F. Schubert (1797-1828) – String trio in B-flat
INTERVAL
J.S. Bach (1685-1750) – Sarabande and Bourées from Suite no. 3 in C-major
W.A. Mozart (1756-1791) – Andante from the string quintet in C-minor
G. Muffat (1653-1704) – Sonate for strings in e-minor (Armonico Tributo)