Datum/Zeit
Datum - 20.04.2018
19:00 - 21:00 Uhr

«Halbmondwahrheiten», a documentary directed by Bettina Blümner
German with Arabic subtitles
Psychologist Kazim Erdogan, a Berlin resident since 1974, grounded the association "Aufbruch Neukölln" in 2007. In this self-help group for men of Turkish descent, alleged patriarchs meet over tea and cookies every Monday to discuss their changing roles in their families and society.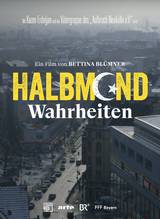 The director Bettina Blümner followed the group very closely in 2015. Her documentary is an intimate portrait of its protagonists, who speak with great openness about their feelings and upend many cliches.
After the film there will be a discussion — Bettina Blümner and Kazim Erdogan will talk with us about their film and their experiences.